As It Surpasses Over Five And A Half Million Views On YouTube Is It Time To Call This Simple Ad The Greatest Single PR Moment In The History Of Wind Power?
In 2007, two very unlikely partners, the German Ministry for the Environment and wind energy company Epuron, teamed up with the Hamburg based advertising agency Nordpol to tell the tale of Mr W – a giant of a man, whose mischievous ways were causing constant problems to people wherever he went.
Mr W's size and strange appearance in dirty black clothes with a dirty black ill-fitting bowler hat only added to his menace as we saw him travel through France scaring old ladies, making children cry, spoiling parties and harassing good-looking women. We even saw him ruin the hard work of a down and out who was simply trying to make a few cents. Finally, as if to prove his contempt for all forms of order, we even had a grandstand view to his mocking a member of the security services.
Mr W, played impressively by Guillaume Delauney, was, for most of his existence, a bad guy – and he knew it.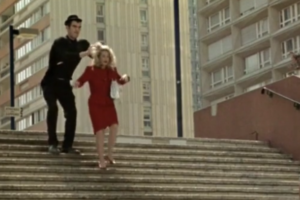 As we progressed through the two minute film watching the evils that he caused, we heard from Mr W himself about his actions as though in a confessional. This giant was remorseful for the havoc he had caused and, in his soft French-accented tones, we discovered his more caring side as he explained the pain and anguish of his existence. This force of negativity and chaos, we discovered, was deep down just a gentle giant at heart – and he just wanted to show the world he had a more creative purpose.
He just needed the chance to prove it and the help of others to get him started.
There can be few who saw this film and didn't come away inspired …
Of course, most of us know how the story ends for our mild-mannered French giant – no spoiler alert needed here – and it was a beautiful moment for anyone watching. There can be few who saw this film and didn't come away inspired by what they had seen.
The result in real life was almost as wonderful. The creators of the film were feted with awards including a Cannes Gold Lion and, in many ways, the film's early viral success led to a real change in how the wind energy industry, and renewable energy itself, was perceived as a force for good.
It could therefore be suggested that almost twelve years after its creation, the renewable energy industry should see this ad as 'one of' if not 'the' defining moment in their history.