The UK's Royal Mail postal service can trace it's history back over 500 years to the time of Henry VIII when he established in 1516 what was known as the 'Master of the Posts'. Over many generations this initial royal courier service was used solely for the Crown but over time transformed into a public service for national, then international service, copied by every other country in the world.
The Royal Mail gave the world postage stamps, the first uniform prices, the world's first airmail service, those distinctive red pillar boxes, and even, back in the day (actually 1926) when it owned the telephone system, the iconic K2 red telephone boxes that so identify as 100% Cool Britannia.
The Royal Mail have used all forms of transport to physically deliver the mail. On foot, on horseback, horse and carriage, row boats, mail coach, mail boat, etc. Always keen to keep up with the latest tech of the time, in 1830 they set up a mail train on the world's first railway system, the Liverpool to Manchester, just days after it opened.
In the years that followed they would use bikes (yes, the bicycle was invented AFTER the first train), traction engines, aircraft, postbuses, hovercraft, pigeons, even a pneumatic system that sent mail scuttling under the streets of London, but the bulk of its post in the Royal Mail's total history would be delivered by motorised transport.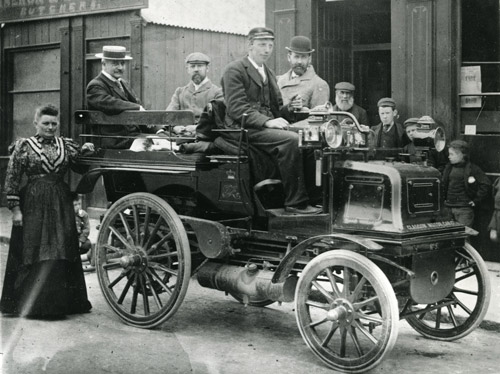 The Royal Mail first began using motorised transport in 1907, which over the next century opened the floodgates to a faster, cheaper, more efficient system ensuring people could expect their mail 'First Class' by the next day.
As the world has changed to become more environment minded the Royal Mail are also playing their part. In September 2018 they began to roll out the first of their fleet of electric van and trucks. Over time these varying designs of electric vehicle will replace the older diesel and petrol engined fleet.
The Royal Mail has 41,500 vans and 6,200 trucks and trailers so any move they make to reduce their carbon footprint will be a big deal.
The Royal Mail has 41,500 vans and 6,200 trucks and trailers so any move they make to reduce their carbon footprint will be a big deal. As part of their transition from fossil fuels they are now trialling e-Trikes – small van like zero-emission electric tricycles.
Eight e-Trikes, which are powered by a combination of solar, battery, pedal and brake technology, are being sent to Stratford in East London, Cambridge, and Sutton Coldfield, where they will be trialled for a period of six months.
The e-Trikes can take a similar load to many of the small vans used by Royal Mail already. They can also not just use roads, by some cycle paths as well.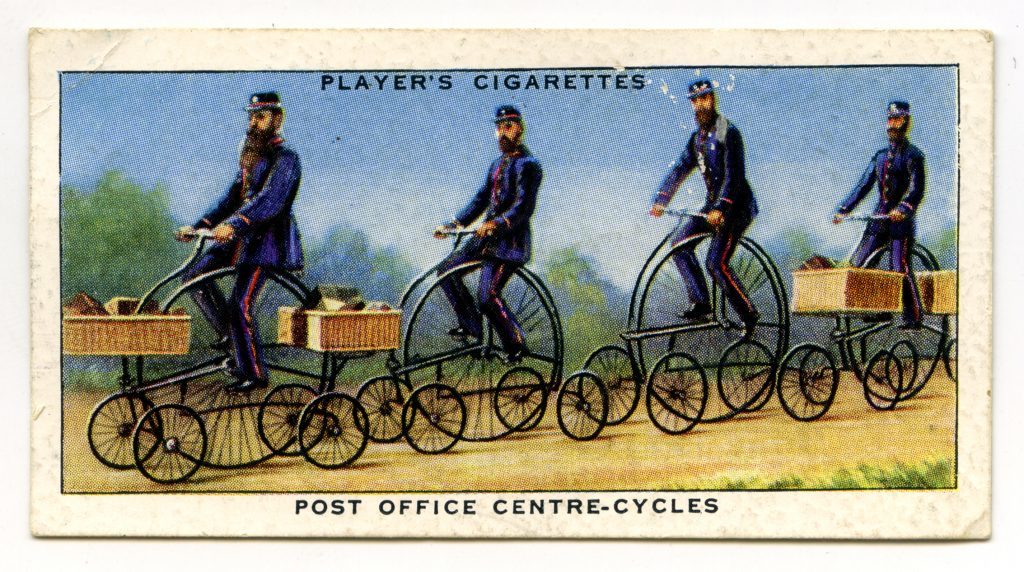 Hopefully the trial will be more successful than their experiment with pentacycles in Sussex 137 years ago. These were essentially a penny farthing bike with four smaller wheels to aid stability. Known as Centre-Cycles, but nicknamed 'Hen and Chicks', they carried two large baskets for mail and the cyclist rode high, as if on a horse. They proved popular with those delivering in open and flat areas, but were deemed impractical for ordinary travelling.